In September 2018, the Geotechnical Engineering Office of the Public Works Department of Taipei City Government announced the opening of the Taipei Grand Hike. This is a 92km route through some of Taipei's most scenic landscape and over some of its most popular peaks. The hike takes in existing trails and roads, but new signs and facilities have been installed along the route to make sure that hikers can comfortably access the landscape. As well as covering a total distance of 92km, there is an elevation differential of 1120m, and according to the information on the trail's official map you are likely to burn off upwards of 38,000 calories in the process of covering the miles.
Anyone wishing to pick up a map of the whole route can head to the GEO office during office hours at: 3rd Fl., No. 300, Songde Rd. (松德路), Xinyi Dist., Taipei City. (It would be great if these maps were more widely available.)
The whole route walk is split into seven hikes in two distinct areas. Five days are spent in the "Northern Taiwan Mountain Range", and two are allocated to the "Southern District Tea Township". Having said that, it would also be possible to split the whole thing into a larger number of shorter walks if you feel that spending 6-7 hours hiking at a time is too much.
The route information on this page has been put together by watching Tony Huang's wonderfully informative videos on the trail, this page that somebody who goes by the name of Mark wrote, some information from the official map, and of course from actually walking it. To read in more detail about each hike, how to do it and what to expect, you can click on the map or the title.
---
GUANDU MRT STATION to ERZIPING
Guandu MRT Station → Xiuyan Road → Mt. Zhongyi Trail → Xiaopingding Road → Guizikeng Trail ('běi' character) → Xiqingque Trail →Chinglien Temple → Mount Datun main peak → Lianfeng Trail → Miantian Ping → Erziping Trail → Eziping Visitor Centre
---
ERZIPING to XIAOYOUKENG via DATUN SHAN
Erziping Visitor Centre → Erziping Trail → Miantian Ping → Datun Shan Multi-peak Trail → Datun Shan West Peak ('zǒu' character) → Datun Shan South Peak ('zòng' character) → Datun Shan Main Peak ('dà' character) → Datun Shan Civil Aviation Authority Lookout → Datun Saddle Car Park → Balaka Highway Pedestrian Trail → Shuiwei Balaka Trail → Dinghu Calla Lily Trail → Yangming Creekside Trail → Arrow Bamboo Trail / Xiao You Keng Visitor Centre
---
FENG GUI ZUI to XIAOYOUKENG via QIXING SHAN
Xiao You Keng Visitor Centre → Qixing Shan Main Peak to East Peak Trail → Qixing Shan Main Peak ('xī' character) → Qixing Shan East Peak ('dōng' character) → Leng Shui Keng Visitor Centre → Qing Tian Gang → Ding Shan to Shiti Ridge Trail → Shiti Ridge → Ding Shan → Feng Gui Zui ('běi' character)
I walked this section in reverse because transportation is easier that way.
---
FENG GUI ZUI to DAHU MRT STATION
Feng Gui Zui ('běi' character) → Feng Gui Zui Trail → Wanxi Agricultural Road → Shuangxigou Old Trail → Meihua Shan → Bi Shan → Da Lun Tou Trail → Wishing Trail → Bishan Road → Houhu Wetland → Baishihu Suspension Bridge → Bishanyan Kaizhang Shenwang Temple → Yuanjue Temple → Yuanjue Waterfall → Yuanjue Waterfall Trail or Yuanjue Temple Trail → Yeh Ancesteral Temple → Dagou Riverside Park ('nán' character) → Dahu MRT Station
---
BISHANYAN to JIANTAN MRT STATION
Bishanyan → Zhongyong Shan Trail → Neihu Third Cemetary → Jinlong Rural Road → Yuanming Temple Trail → Zhengchengong Temple Trail → Jiannan Road → Wenjian Shan → Jiannan Shan Night View → Jiantan Road → Jiantan Shan → Lao Difang ('tái' character) → Jiantan MRT Station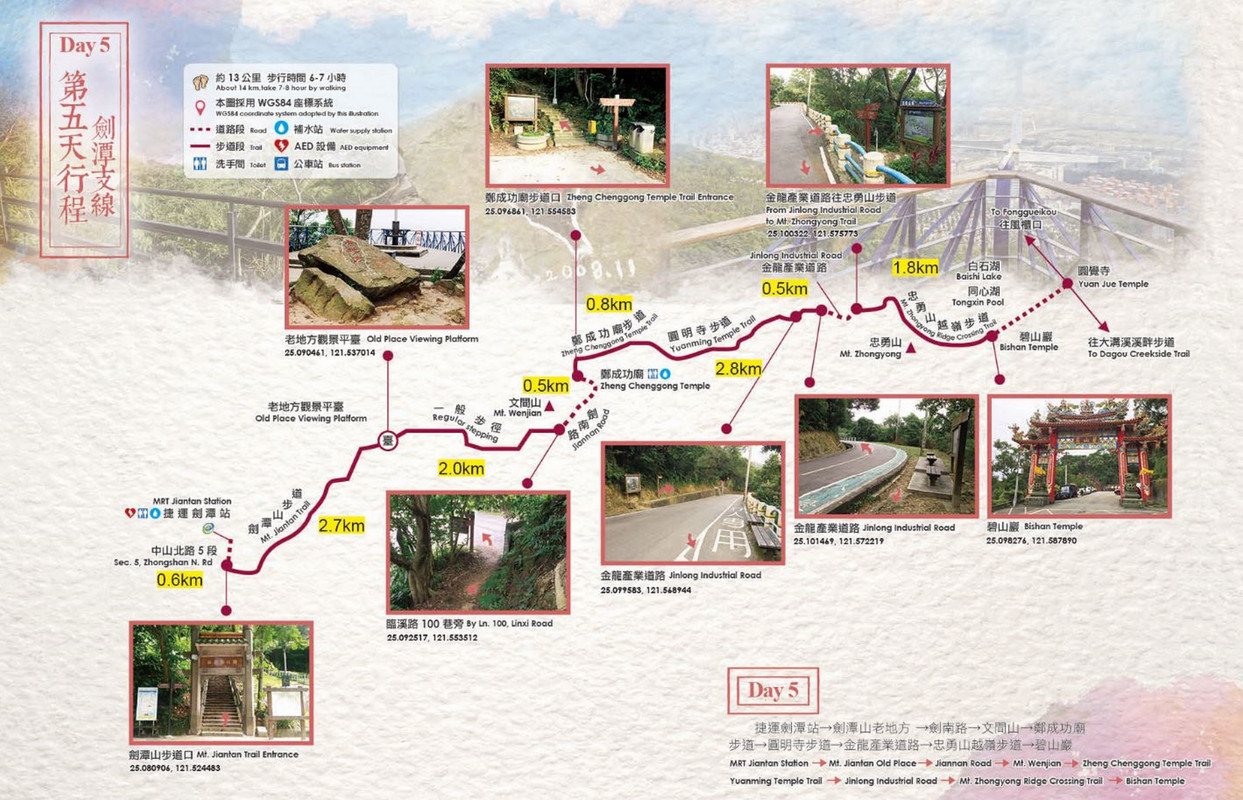 ---
NANGANG SHAN to LIUGANG MRT STATION via TIAOMI OLD TRAIL
China University of Science and Technology → China Institute of Technology Trail → 95 Peak ('zhuàng' character) → Nangang Shan → Muzhi Shan (Thumb Mountain) → Miao Gao Tai → Ziyun Street → Tiaomi Old Trail (called "The Ancient Rice Road" on signs) → Chongde Street → Tu Di Gong Ridge Trail → Zheng Zhong Ling An Lu Temple → Heping East Road, Section 3, Lane 636 → World Mountain Villa Estate → Jungong Mountain → Zhongpu Mountain → Fuzhou Mountain Park → Fuyang Ecological Park → Liugang MRT Station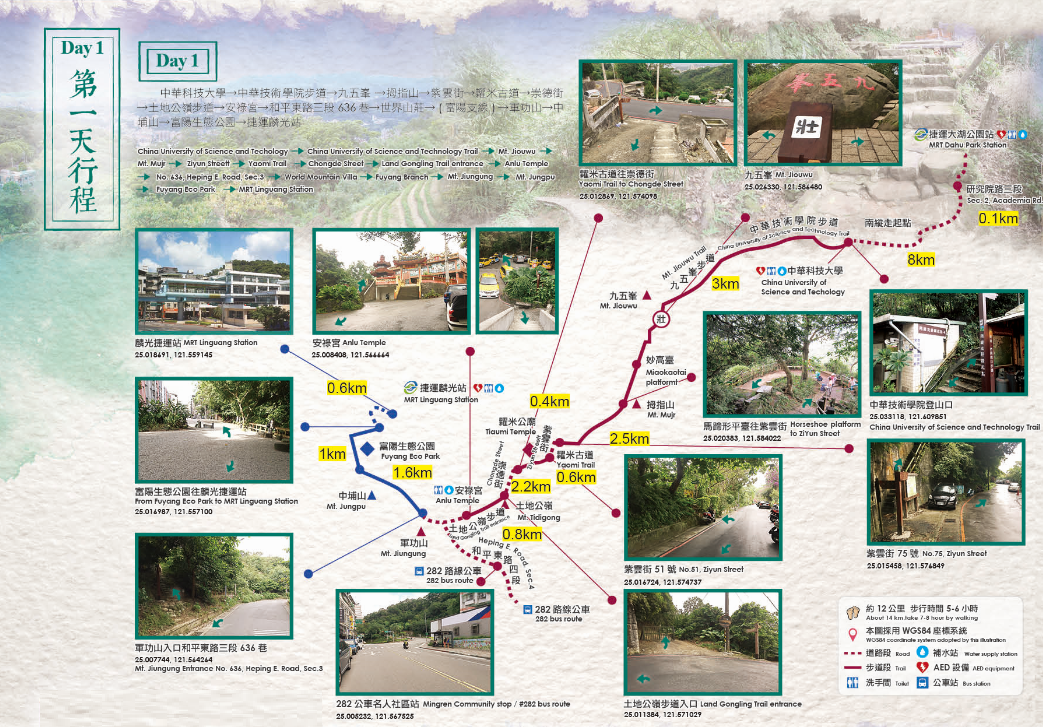 ---
ZHINAN TEMPLE to MAOKONG and ZHANGSHAN TEMPLE
National Chengchi University Bus Stop (1) → Zhinan Temple Trail → Zhinan Temple → Green Light Platform ('yóu' character) → Dacheng Temple Trail → Maokong Potholes → Jiankang (or 'Healthy') Trail → Maokong Gondola Station → Camphor Tree Trail Pavilion ('qù' character) → Zhangshan Temple → Dragon Trail → Dragon Trail Trail Head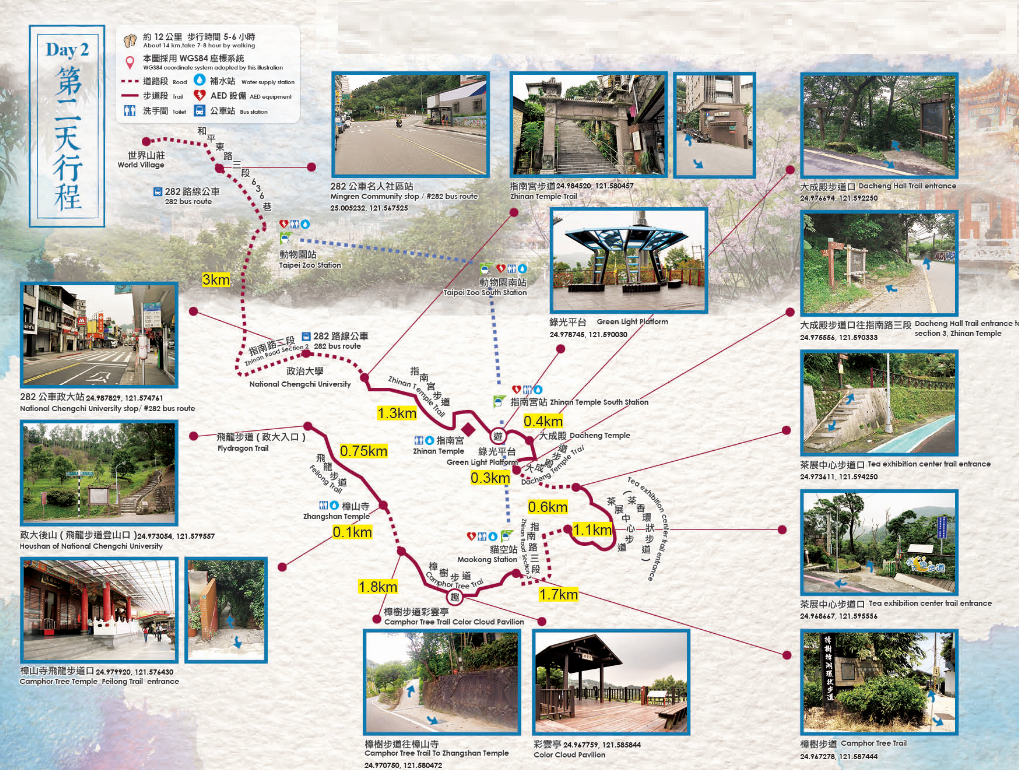 ---
CYCLING from WENSHAN to GUANDU
Back when the Taipei Grand Hike was first announced, I was excited by the idea of a Taiwanese long distance trail, but it always rankled that the trail didn't encircle the city entirely. Well now it does. (Almost.) This post connects the end of section seven with the start of section one by following Jingmei River until it connects with Xindian River, then tracing that downstream, nipping across the narrow neck of Shezi Island and transferring to the Keelung River until that eventually empties out into Tamsui River around Guandu.
---
This is currently an unpaid side passion project and I will continue doing it just for the love of it, but of course if you like what I do and feel inclined to chip in a few dollars for transport and time then I would appreciate it immensely. You can find me on either Ko-fi or Buy Me a Coffee.