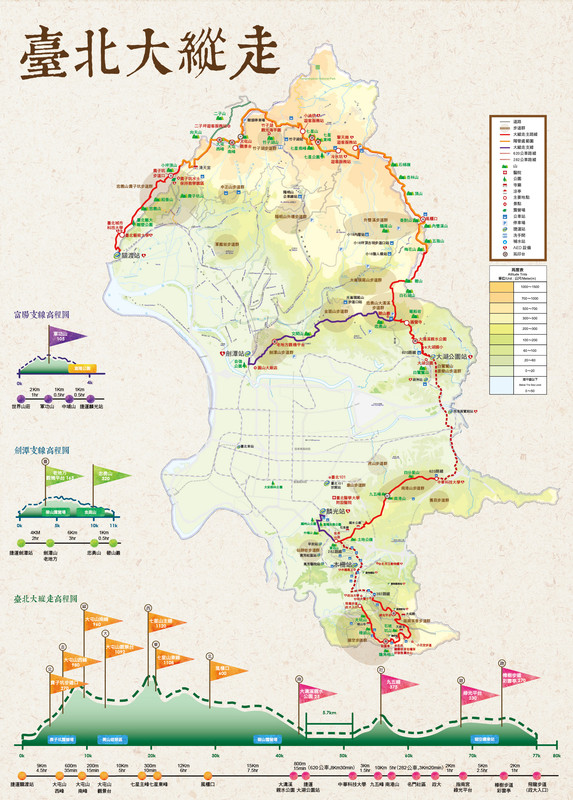 In September 2018, the Geotechnical Engineering Office of the Public Works Department of Taipei City Government announced the opening of the Taipei Grand Hike. This is a 92km route through some of Taipei's most scenic landscape and over some of its most popular peaks. The hike takes in existing trails and roads, but new signs and facilities have been installed along the route to make sure that hikers can comfortably access the landscape. As well as covering a total distance of 92km, there is an elevation differential of 1120m, and according to the information on the trail's official map you are likely to burn off upwards of 38,000 calories in the process of covering the miles.
Anyone wishing to pick up a map of the whole route can head to the GEO office during office hours at: 3rd Fl., No. 300, Songde Rd. (松德路), Xinyi Dist., Taipei City. (It would be great if these maps were more widely available.)
The whole route walk is split into seven hikes in two distinct areas, and these are linked by cycle routes. Five days are spent in the "Northern Taiwan Mountain Range", and two are allocated to the "Southern District Tea Township". Having said that, it would also be possible to split the whole thing into a larger number of shorter walks if you feel that spending 6-7 hours hiking at a time is too much.
---
GUANDU MRT STATION to ERZIPING
The first part of the Taipei Grand Hike has you putting in some serious legwork to make it all the way from the flat land of Guandu right up into Yangmingshan National Park. This section takes in art, grand tombs, an irrigation canal, and many, many steps.
---
ERZIPING to XIAOYOUKENG via DATUN SHAN
The second leg of the Taipei Grand Hike climbs some of the wilder peaks in the west of Yangmingshan National Park. This section starts from Erziping and takes in three peaks on the Datun Multi-Peak Trail before dipping down into the picturesque scenery of Dinghu. Then finishes by climbing along a stream to the steaming crater of Xioayoukeng.
---
FENG GUI ZUI to XIAOYOUKENG via QIXING SHAN
The third installment of the TGH has you climbing to the highest peak inside Taipei City. Go on a clear day and your effort will be handsomely rewarded with 360-degree views of the surrounding area. As well as big views, this route also takes in some really pleasant forest and ridge scenery on the Mount Ding – Mount Shiti Trail.
---
FENG GUI ZUI to DAHU MRT STATION
The fourth installment of the Taipei Grand Hike takes you to some beautiful and quiet corners of Yangmingshan National Park, as well as some of the more popular scenic spots in Neihu. The best thing about this portion is that it has an abundance of water, from the natural and charming stream running alongside Shuangxigou Old Trail, to the manmade Sweet Water Lake, and the easily accessible Yuanjue waterfall.
---
BISHANYAN to JIANTAN MRT STATION
Bisecting the northern and southern portions of the hike, day five takes you along the hills that separate Shilin and Songshan Districts. Here you'll pass a supposedly haunted temple, the best spot for overlooking Songshan airport, and remnants of Taipei's military past.
---
NANGANG SHAN to LIUGANG MRT STATION via TIAOMI OLD TRAIL
The Taipei Grand Hike's southern arm stretches over the peaks of the Nangang mountain range and up to the huge temples and tea plantations of Muzha. In this section, you will experience wonderful views over Taipei, some of the most popular trails in the city as well as some much quieter, less frequented routes. Take in 360 degree views, historic trails, a mountain-side cemetery and a whole load of temples. This walk is a great way to start your Taipei Grand Hike adventure.
---
ZHINAN TEMPLE to MAOKONG and ZHANGSHAN TEMPLE
Section seven of Taipei's long-distance path leads you up into the tea-growing hills of Muzha. There's a waterfall, one of Taiwan's top 100 religious sites, (Chihnan Temple), and the opportunity to take a rest stop in one of Maokong's famous tea houses.
---
CYCLING from WENSHAN to GUANDU
Back when the Taipei Grand Hike was first announced, I was excited by the idea of a Taiwanese long distance trail, but it always rankled that the trail didn't encircle the city entirely. Well now it does. (Almost.) This post connects the end of section seven with the start of section one by following Jingmei River until it connects with Xindian River, then tracing that downstream, nipping across the narrow neck of Shezi Island and transferring to the Keelung River until that eventually empties out into Tamsui River around Guandu.
---
This is currently an unpaid side passion project and I will continue doing it just for the love of it, but of course if you like what I do and feel inclined to chip in a few dollars for transport and time then I would appreciate it immensely. You can find me on either Ko-fi or Buy Me a Coffee.